Added to Cart
Resi-Linx Dvb-T Dual Input Hd Digital
Resi-Linx Dvb-T Dual Input Hd Digital
Modulator With Mpeg 2 & Mpeg 4
$2,999
+ Delivery
RRP
$3,390
Add to Wishlist
Overview
{tab Features}
Limited Time Offer
While we await stock of the 4 channel version, during the month of may, buy two HD2002DM's for the price ofone HD4002DM!
That's a saving of over $600 per unit!
Please note, this offer is only available while stocks last and will expire on 1 June 2017.
HD
DUAL

INPUT

MODULATOR

with Mpeg 2 and Mpeg 4 Distribution

Resi-linx digi-MOD HD Digital DVB-T Modulation System will allow you to distribute any HD devices (Pay TV, BD, PVR, DVD etc) in true HD around the home or business with ease.

Digi-MOD® HD converts a HD source into High Definition DVB-T channel/s for distribution via RF cable. Simple to setup and installed within minutes, digi-MOD HD is ideal for all your domestic and commercial applications including homes, motels, hotels, bars, restaurants, hospitals, airports, digital signage and much more.
Dual Input High Definition

DVB

-T Modulator that converts HD video and audio signals to digital

COFDM

DVB

-T Channel
Dual Mode –

MPEG

-2 &

AVC

(

MPEG

-4) Encoding
Distributes 576i / 720P / 1080i / 1080P picture quality (1080P only available on

AVC

)
Programmable Channel, Network Names and

LCN

HDMI

, Component,

CVBS

, Analogue Audio, Digital Coaxial/Optical inputs
Full function front

LCD

display for adjustments
2K/8K Carriers
Adjustable

VHF

/

UHF

Output (6-69)
Adjustable Attenuation (95dB launch)
Desk, Wall and Rack Mountable
{tab Specifications}
Number of Inputs: 2
Video Resolution:

MPEG

-2 /

AVC

(

MPEG

-4)
Channel Output: 6-69
Output Connector: F type
Video Input:

HDMI

/ Component /

CVBS

Audio Input:

HDMI

/ Analogue Stereo /Digital Coaxial / Optical
Video Resolution: 576i / 720P / 1080i/ 1080P
Output Level: 95dBuV
Output Level: Adjustment 20 dB typ.
Dimensions: L- 482.7mm x W- 240mm x H- 44.4mm
Weight: 3.75Kg
{tab Installation}

Please READ the INSTALLATION MANUAL and follow it step bystep.

Note: If you change input resolution, you must PRESS the RESET button on the FRONT PANEL
OPTION

:

FOR

IR ON HD Modulator
Connection Diagram
Click on images for larger version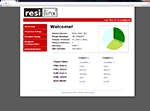 Main menu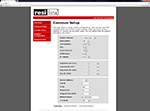 Common setup menu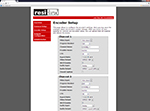 Encoder setup menu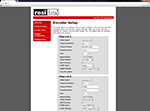 Encoder setup menu (renaming channels)

{tab

FAQ

s} Q. Can the modulator support 3D Blu-rays?

Yes. It has been tested with a 3D Yamaha Blu-ray player and 1080Pand 24fps (48fps) content from a Blu-ray disc – Avatar. Remember to select MPEG4 for the bluray input channel as content is 1080P. {tab Downloads} Resi-linx HD Modulator Sell sheet{/tabs}